Most of us relate business card as typical and conventional introductory means. Its static attribute may not seem attractive for potential clients. It is easy to throw it away or leave it unnoticed. But AR business card changes the game.
AR business card stands for augmented reality business card. As the name suggests, it uses the technology for delivering various content inside a business card. A conventional business card usually writes short information related to a business, such as company name, address, and email contact. AR is able to put them all and there are so many more and explained below.
What is AR Business Card?
AR business card refers to state-of-the-art business card that looks similar with ordinary business card. AR business card is thicker than ordinary business card because the former uses PVC as the medium. AR Marker significantly differs between the two modes. A special application inside a smartphone camera will read AR Marker.
It's very easy to use AR business card. Using this card looks like scanning QR code. Upon reading it, your smartphone will display various important information depending on which part of the card being aimed. Contents, such as company profile, portfolio video, and office map, are included in the business card.
Another name of the business card is hologram business card. All companies across business lines can utilize this innovative card to bring them closer to their clients of potential ones thanks to social media in particular. They can access contents inside the business card by scanning them via smartphones wherever they are.
Benefits of AR Business Card
1. As a strong branding medium
AR technology will serve as a positive and strong branding medium at once. Regardless your business line, the technology will present innovative and creative impressions for clients or would-be clients. It will pave the way for better partnership in the future. In addition, AR business card facilitates recipients better understanding your company. Scanning is what they need to know your company in a pleasant way.
2. As complete information provider
Within that tiny business card, you can include compact package of your company information. You can even mention the company history, website, product catalogue along with the address that can be directly accessed via smartphone. The comprehensive information is most unlikely displayed in conventional business card.
Baca juga: Virtual Tour 360, the Best Way to Enjoy Art and Tourism Safely from Home
3. As product catalogue displayer
Say goodbye to paper-based product catalogue mostly distributed to passers-by or friends. You can turn AR business card as product catalogue displayer. Again, clients or potential clients can simply scan part of the AR business card on product catalogue. Not only product name, but also the catalogue may add information about product price, availability and ingredient. Besides as a creative introductory tool, this business card also serves as a promotional means.
4. As the bringer of closer relationship with clients/potential clients
Static business card is like a wall for consumer candidates or would-be clients to know your company better. They may feel reluctant to type your company website or intentionally search for information about your company to follow up recent meeting.
AR business card is the solution. First, create social media account, including YouTube. Social media is the window of your company where business acquittances will know your company activities, such as latest programs and behind-the-scene events. The types of contents will make them knowing more about the unique sides of your business. This is such a breakthrough on business entity impression that is mostly known as stiff and is oriented on profit or loss.
5. As facilitator for searching business location
The fifth function relates to physical distance. Simply scan the location to get the map or the address of the business location, such as factory or office. Business acquittances may not visit the address right away but the feature will make them easier to reach your office one day.
AR Business Card Project between MonsterAR and PT. Tiara Buana Mandiri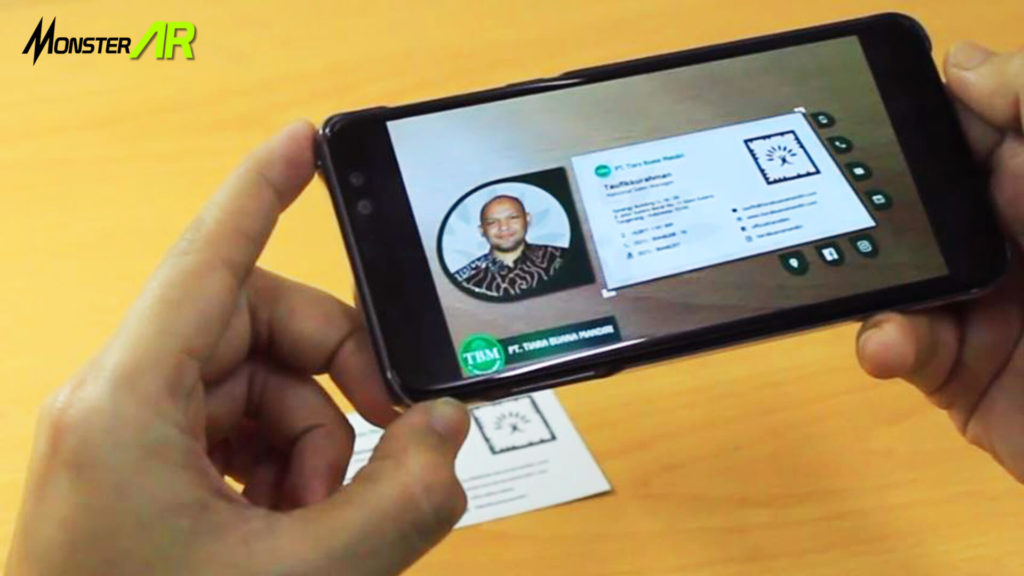 MonsterAR is proud to have created AR business card for our client, PT. Tiara Buana Mandiri (TBM). The client is Indonesia's private company that engages in chemical substance provision for farmers to protect their plants.
We inserted important features, such as product catalogue, information about the company, media portal, and the company address connected to Google Maps. Besides comprehensive, the business card makes it easier for connecting all to the company.
Interested at making one like the past client? Don't hesitate to consult with us for free so that our future service will best meet your business needs.
Product marketing is more powerful and effective through AR and VR technology
Call us right now for FREE consultation!
Kunjungi channel Youtube MonsterAR untuk selengkapnya tentang project kami